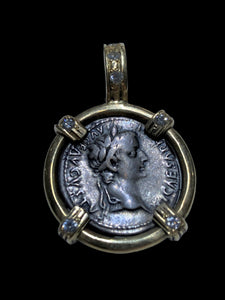 Source: Roman, Denomination: Silver Denarius. Date: 14-37 AD, Ruler: Tiberius Caesar Augustus, Frame: 14K Gold, Obv: Head of Tiberius facing right, Reverse: Livia seated
The Tribute Penny was the coin that was shown to Jesus when he made his famous speech "Render unto Caesar" The phrase comes from the King James version of the gospel account: Jesus is asked, "Is it lawful to give tribute to Caesar, or not?" and he replies, "bring me a penny, that I may see it" (Mark 12:15).
The Greek text uses the word denarion, and it is usually thought that the coins was Roman Denarius with the head of Tiberius. It is this coin that is sold and collected as the "tribute penny," and the gospel story is an important factor in making this coin attractive to collectors.